How to Care for Leather Shoes – A Quick Guide
We all lead such busy lives. Here is a succinct list of what we would recommend you do to keep your shoes looking good. (You can skip number 2 if your shoes are not so dirty).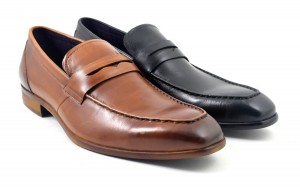 CLEAN
1. Take off the laces and wipe your shoes down with a soft bristled brush or a damp cloth to remove superficial dirt and stains.
2. You could use a leather cleaner and/or conditioner for a deep clean/moisturising effect. Let them dry and then:
POLISH
3. Apply a neutral polish or one as closely matched to the colour of your shoe with a soft cloth or a duster. You do not need too much polish. Use a circular rubbing motion: the more you rub, the better. Let the polish dry, ideally with a shoe tree inserted. Leave for about an hour at least and then…
4. Buff the entire shoe with a soft polishing brush. For extra gleam, hold the shoe between your knees and buff the toe vigorously with a lint-free cloth.
SHOE TREE
If you were going to invest in a shoe tree, we would recommend unfinished cedar as it soaks up moisture and disagreeable odours. Shoe trees maintain shape and prevent shrinkage and creases. You only need one good pair as you need only use them when you polish or for one hour after wearing them.
JOB DONE!